Easy to mount,
stable and reliable
Compatible with all
SimCube 2 Direct Drive Systems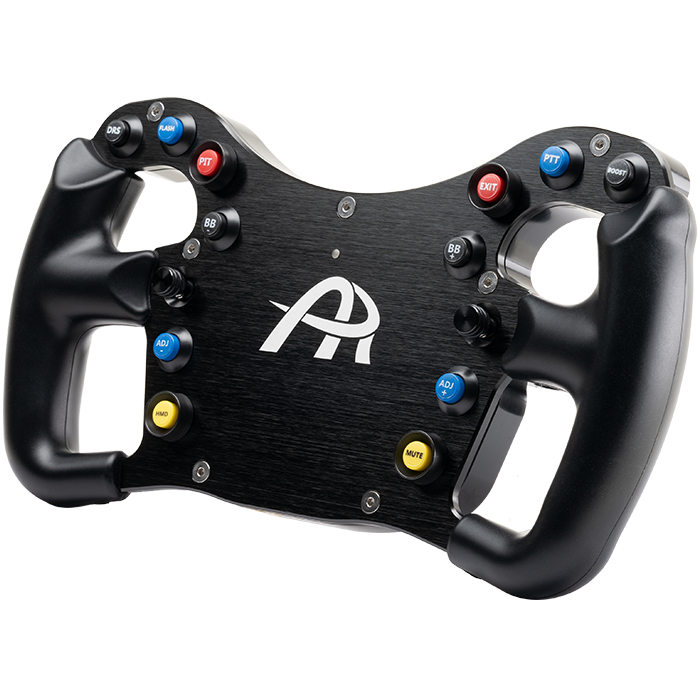 Ascher Racing F28-SC V2
NOW AVAILABLE!
The Ascher Racing F28-SC is a high-quality SimCube Wireless Wheel™ and has at its disposal a total of 28 input options. In addition, the steering wheel is now equipped with extra-grippy rubber grips.
12x buttons with noticeable feedback
2x multifunctional 7-fold joysticks
2x magnetic paddle shifters
OPINIONS ABOUT Ascher F28 V2
"As a racing driver, I need a steering wheel of high quality and stability to get as close as possible to the real racing car. I found exactly that with the Ascher steering wheels!"
-Tim Heinemann 2020 DTM Trophy winner-
"In the past there was no steering wheel to buy in SimRacing that met my requirements. So I started designing and manufacturing my own. Today, for many of my customers, the Ascher Racing steering wheels are the benchmark in SimRacing."
-Martin Ascher, Ascher Racing founder-
Ready to Race.
With a new half steering wheel rim and ergonomic grips
The Ascher Racing F28-SC V2 is milled from aluminum and it is compatible with all simucube based Dircet Drive Systems (SC1, SC2, OSW Kits). Furthermore, the various buttons and switches can be assigned freely to the respective SimRacing simulation.
Made from high quality aluminium
Black anodised and laser engraved
Brushed front panel surface
Glass bead blasted paddle surface